5 Reasons to Use a Reverse Phone Lookup
Linda Collins - May 12, 2019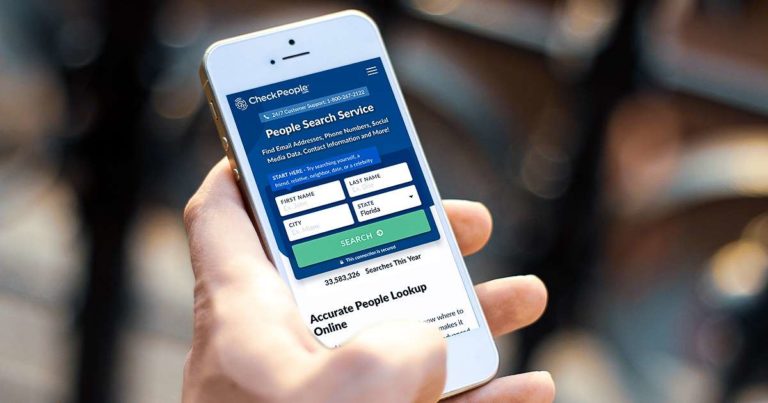 The days of flipping through a phone book to find someone's contact information are long gone. With about 95 percent of Americans owning a cell phone, it is nearly impossible to find someone whose name isn't associated with at least one phone number.1 Many people share their cell or office phone number every time they send an email or hand out a business card. We have essentially reached a point where our names are synonymous with the ten-digit number used to reach us 24 hours a day, seven days a week.
It's no surprise, then, that the same tools used to search someone's name online can also be used to search someone's phone number. Reverse phone lookups can reveal the person or business associated with any cell or landline number. With those ten digits, you can quickly learn a person's full name, address, occupation, criminal history, and much more.
Reverse Phone Lookups come in handy more often than you may think. If you aren't sure this tool could ever help you, here are the top five occasions when a reverse phone lookup could be useful.
1. Find out who is calling or texting you.
It is irritating to constantly receive calls or texts from an unknown number. Increasingly, telemarketers are buying lists of phone numbers, using them to harass people on their cell phones several times daily with the touch of a button.
If you use your cell phone number for business, and often get calls from potential clients, you perhaps pick up every call regardless of whether you recognize the number. Unfortunately, there may be a scammer or prankster on the other end.
Occasionally, a friend or client may change phone numbers and forget to tell you. People generally don't screen every call and expect everyone to leave a message before their number is identified, and trust restored.
If you get a call or text from an unknown number and you want to know who it is, simply type it into CheckPeople's reverse phone lookup tool and click "search." Hopefully, it will reveal a name you recognize, and you can go ahead and call them back. If it ends up being a stranger's name or an out-of-state address that you don't recognize, block the number and consider the scam thwarted.
2. Learn more about a potential date.
The prevalence of dating apps has changed the game of love. Blind dates are more common than ever before, which means more Americans now experience the anxiety and fear that go along with meeting a stranger in person. Conducting an online people search is a great way to learn important things about a potential date, but what if you haven't exchanged last names yet? Or what if they're using a fake name on the app?
When you finally switch the conversation from online to your cell phones ahead of your first date, run a quick search on their phone number. If a name other than the one they gave you pops up, perhaps question meeting up with them. If it is the same name, you could learn that they have a criminal history, or even a spouse that they failed to mention.
The information you will learn from a reverse phone lookup could protect you from all the catfish out there. You will gain instant access to social media accounts, and current photos and videos. Accessing all of this information ahead of time can help you feel confident in your choice whether you decide to go, or to cancel your date.
3. Find out who is calling or texting your significant other.
With nearly everyone having their own cell phone, concealing an affair is not difficult. Even if your significant other is regularly texting someone else, all they have to do to hide it from you is delete the text thread and not save the number. If you happen to see an unknown number appear on their phone, they can simply tell you that it was a telemarketer or wrong number.
Reverse phone lookups are a handy tool to have in your corner. If you have a chance to write the suspicious number down or commit it to memory, you can quickly find out who your partner has really been talking to.
4. Discover who you accidentally called or texted.
Most of us have probably dialed a wrong number at least once or twice. But did it ever result in an intriguing conversation? Maybe you have an engaging talk and some laughs with the stranger on the other end, or you end up texting back and forth out of sheer curiosity. It could also be that you accidentally sent an embarrassing photo or other personal information to the wrong phone number.
Whatever the reason, you can use a reverse phone search to easily find out who you accidentally called or texted. You never know — that typo could be fate leading you to the love of your life. Crazier things have happened!
5. Avoid an awkward re-introduction.
Some lucky people are adept at remembering names, but not many memorize a name during the first handshake. Imagine walking away from an important networking conversation that went really well, only to realize you completely forgot their name. It's not a good look to fail to address a professional email recipient by name, or to follow up by calling a person's office when you have no idea who to ask for.
You may also find yourself remembering the cute person who wrote their phone number on your hand at the bar, but not whether they introduced themselves as Brett or Brian. Or was it Ben?
Reverse phone lookups are perfect for those of us who need to hear a name at least three times before we really get it. As long as you have their phone number and CheckPeople, you will be able to find their name.
It can be unnerving to have a phone number and not know who it belongs to. CheckPeople's reverse phone lookup puts the power back into your hands, using publicly-available information. Reverse phone lookups are a safe, reliable way to get the name and background details about any person or business attached to either a cell or landline phone number.
Using reverse phone lookups you can feel confident about making better-informed decisions on whether to block or save any number in your phone, preventing you from wasting time and energy worrying about who may be on the other end of the line.
1 http://www.pewinternet.org/fact-sheet/mobile/
Related Posts