The Five Step Process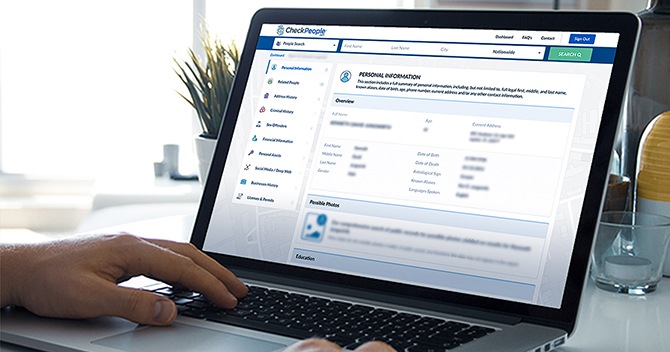 Visit Our Home Page
While you may be able to find public records and perhaps even contact information by visiting the courthouse, searching through phone books and conducting an extensive Google search, oftentimes these methods do not yield quality results and eat up a lot of time and money in the process.
Fortunately, there is an easier way. Our search people service allows you to quickly search for veterans using only their name and nothing else, helping you catch up with old friends, past lovers or distant family members who you have not heard from in a while.
The first step in finding a veteran by their name online is to visit our home page at checkpeople.com. Once you arrive at our home page, you will see the search bar at the very top of the screen, so there is no need to search endlessly through our website to find what you are looking for.
Enter in The Veteran's Name
Once you arrive at our home page and locate the search bar at the very top of the screen.
You can then initiate the search process to find a veteran by typing in their name. If you want to try and find the veteran in the most-efficient manner, you can also enter in their current or previous location to narrow down the results.
If you want to learn more before you begin the search, be sure to scroll down our home page and check out our entire website to find out exactly what all will be revealed in our detailed search reports, what all our service can be used for and much more.
After you decide to go through with the search, you are just clicks away from finding insightful information about the veteran in which you are curious or have concerns about.
Complete The Process
After you enter in the veteran's name into our search bar, our system will guide you the rest of the way, without you needing to provide any additional information other than verification you understand the steps that are taking place.
Once you verify the exact individual on whom you intend to conduct the search, the system begins to gather information from a variety of public record sources, including courthouse records, police reports and much more.
While it may take a moment for the information to be gathered, the entire process should be completed in five minutes or less – which is a drastic difference from the hours it would take to capture information through courthouse records and other offline search methods.
After the process is complete, you will then have access to detailed, insightful information that you can then use to contact the veteran, visit them in person or simply satisfy your curiosity.
View The Information
After the process loads all available public information, the fun begins and it is time to view the information provided.
While you may simply view the contact information if you are only looking to get into contact with a veteran you have not heard from in a while, our search reports show much more in-depth information, including: social profiles, arrest records, bankruptcy filings, criminal records, court documents, mugshots, police reports and much more.
In other words, if you are genuinely concerned about the veterans overall well-being since getting out of the service, then you can check up on them and understand exactly how they are doing before contacting them.
In the unfortunate instance the veteran has passed away, is in jail or simply is not in a good state of mind, then it can be good to know before contacting them or their family members to check up on them.
Contact The Veteran
If you are simply attempting to find a veteran in order to satisfy your curiosity about their well-being and what they have been up to, then your search is complete and the detailed information laid-out in the reports should give you all the insights you are looking for.
However, if you are searching for a veteran to try and establish contact with them for any reasons, then you can do so by using the contact information provided by our search people service.
Be sure to only contact the veteran with good intentions, and do not use the information to stalk, discriminate or harass the individual in any way, shape or form as doing so is against the law.
With that said, as long as your intentions are pure and you follow the law, you can use our service to regain contact with a veteran – who may perhaps be an old friend, previous lover or high school classmate.