What is a Number Neighbor & How to Find Yours?
Michelle Wilson - April 16, 2022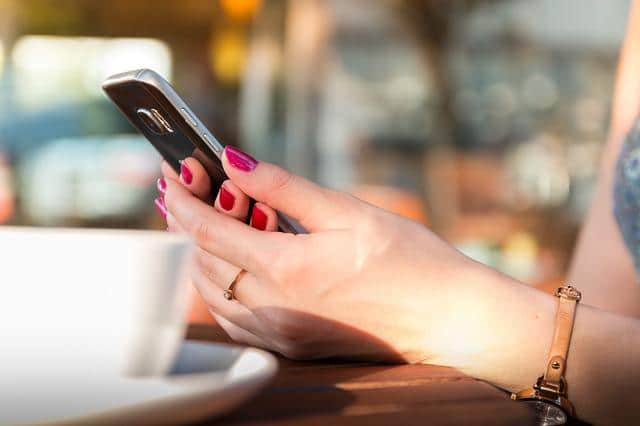 Anyone who has had a social media presence lately has probably heard of the fun games and interactions with a "number neighbor." If you're unfamiliar with this newly popular term, constantly hearing it is likely somewhat of a headscratcher, but thankfully it's not a difficult concept to understand. Long gone are the days of avoiding strangers, with the emergence of random texting and interacting through cell phones. Being able to send a random message to someone higher or lower than your current cell phone number is the game's name, although not all interactions go smoothly. If you're curious about a number neighbor, here's a brief rundown and how it works.
What is a Number Neighbor?
A number neighbor is an individual who has a phone number that is precisely one digit away from you in either direction, up or down from your current number. Most "number neighbors" only reach out to the two individuals on either side of their cell number. However, different variations might include another area code but the same phone number. For example, a phone number with the hypothetical digits 555-555-5555 would have a neighbor of 555-555-5554 to the lower end and 555-555-5556 to the other end. While the game variations vary slightly, the result is pretty similar.
As the end of July happened, the number of neighbors became far more than a curious fact; they ultimately became a challenge or trend. As countless people started texting their number neighbors at random, myriad people began sharing screenshots of those interactions on Twitter. Over time, this whole thing continued to grow into a full-out phenomenon. With no signs of slowing down, one thing is for sure; people need to jump on board the trend and learn to embrace it or simply try to ignore it indefinitely.
The Concept of Number Neighbors
The concept of the number neighbor isn't a new idea; it's been circling for more than ten years. Initially, the idea first appeared on the internet under a different name, "text door neighbors." The Urban Dictionary entry explains the concept dates to August 11, 2008. According to the definition, individuals would intentionally use a digit off their phone number to introduce themselves and build friendships. Many friendships have been struck up by saying hi to the text door neighbor.
A decade before its current resurgence, the term "number neighbor" got an entry about a year after this novel concept. When the term switched to the term "number neighbor" in 2009, it was noted that anyone who has the same phone number as you, besides the last digit". Additional definitions for "textdoor neighbor" and "number neighbor" were recently added, highlighting the new surge in uses.
What Happens When You Text Your Number Neighbor?
Occasionally, the number neighbor conversations become surprisingly wholesome. One example has a gentleman adopting his number neighbor's dog when they couldn't take her when they moved. Likewise, it's always a great idea to use caution when trying to text your number neighbor, especially when you consider the interactions that may occur. Think about what you're doing ahead of time, as disclosing your personal information to a stranger is never good.
Reaching out to a total stranger isn't without risk, whether you're just trying to jump on a trend or start a new friendship. As one individual on Twitter put it, "How did the world progress from 'don't ever talk to strangers' to 'hey, I'm your number neighbor!' overnight?" Unfortunately, many people have also had several super creepy or inappropriate contact back in response to the initial attempts at communication.
Can Things Go Wrong with Number Neighbors?
Contacting a total stranger isn't without risk, unfortunately. Many people have shared horror stories of wrong interactions, especially when the recipient isn't receptive to a random contact. On occasion, the contact could be a child that feels intimidated. Your number might have been a recycled number of a previous friend or family member grieving the loss of their loved one. The recipient might even be going through some difficult times and struggling with contact.
Finally, there's a chance that the person on the other end of the line just isn't receptive to text from people they don't know. Recent comments circling social media suggest it's not uncommon for individuals who don't want to chat with their number neighbors to lash out and use strong language in response to your initial message. Although many could argue that someone not interested in chatting could simply say, "thanks for the message, it isn't my style. Please stop messaging me," and block the number from their phone; it's a little less predictable.
Understanding Consent When Messaging People
Remember that you're sending unsolicited text messages to a stranger when reaching out to strangers. It mimics the same privacy breach as walking up to someone's house and demanding they invite you into their home, asking for a friendly chat without any introductions or context. Although this doesn't excuse the rude or abusive language, it is understandable that anyone receiving a message might not be open to receiving messages.
If you're going to text your number neighbor, always remain polite. Don't be aggressive or creepy. If your number neighbor doesn't respond positively or asks you to leave them alone, simply apologize and move on. Remember, while the text you're sending may seem like a generic message, the person receiving the message is an actual individual with feelings. Be respectful of the impact your message may hold on other people, especially children, seniors, and those aware of the recent trends on social media.
Word of Caution
While many conversations turn out positive, kind, or downright hysterical, protecting everyone's right to privacy is critical. Anyone planning on messaging a "number neighbor" should refrain from sharing personal information about themselves. This personal information includes your name, location, or personal details about your life. Ensure that all conversations are appropriate, staying away from any photos or difficult conversations. If you're planning on sharing the dialogue online (whether on social media or in private groups), always block out the recipient's phone number.
Conversation Starters
Feeling a bit more adventurous? Starting a conversation doesn't have to be difficult, especially if you're following the trends on Twitter. A simple text explaining who you are and why you're reaching out is the easiest way to strike up a conversation, particularly if you're trying to gauge someone's openness to random chats.
Whether you're looking to make a new friend or simply jumping on the social media hype, there are plenty of conversations with your "number neighbor." Anyone with an active social media presence is more likely to receive the message than someone unaware of the concept. By remaining open-minded to sending and receiving these text messages, you'll be able to have light-hearted conversations with your "number neighbor" without worrying about the reaction you'll get back. Should anyone respond negatively, apologize promptly, and end the conversation.
Related Posts