What Do Employers Look for in a Background Check?
Nancy Patterson - September 27, 2019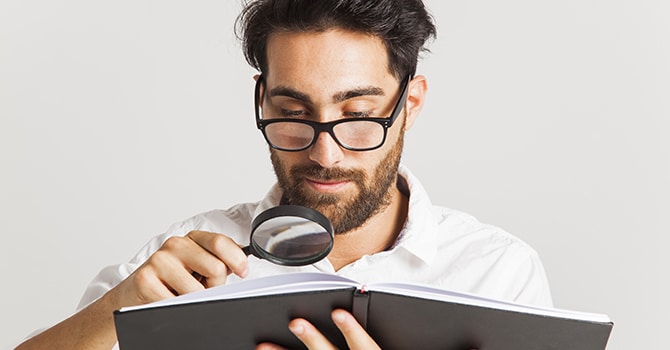 You're applying for a new job. It's something you studied in college, a passion of yours, and this company is a leader in the industry. This would be a feather in your career cap if you can land the position. Unfortunately, you may not have a stellar background and now worry that something they find if they run a background check could disqualify you or -at the very least- make it more difficult to stand out as a superstar applicant.
So, what do employers look for in a background check? Each employer is different and they may have varying degrees of requirements. Also, if you're applying for a financial-related position, they will likely need to run a federal criminal investigation check into your history as well as a deep, hard look into your credit report.
Is This Fair?
Fairness has nothing to do with it. The law provides employers, financial institutions, landlords, and now even private individuals the option to run a background check on just about anyone, so long as they have enough accurate information on that individual, including their full name, Social Security number, and current address.
If you have any type of history that could be damaging to your reputation and negatively impact your ability to secure employment, it doesn't seem unfair, especially if those mistakes from your past have been fully paid for.
For example, you may have been arrested and convicted of a felony when you were 17 or 18 years old. It might have been a non-violent offense, such as stealing a radio from a car or grabbing cash from the register and running out the door.
You may have served your sentence of even just a few days or a few years and assumed that part of your life was well behind you. You could have had a completely clean record and life, never even getting close to sniffing at offense again for the next several decades and that felony conviction could still show up on certain background checks.
Is that fair? That's not a question for this blog, but there are groups out there seeking to change the laws and help people with felony convictions and even felony arrests that could have been discharged in a court of law with a not guilty verdict have them removed from their background, at least after a set amount of time.
Some States Have Different Laws
In California, for example, as well as New York and several other states, they set a limit of seven years for how long felony records can remain at a person's background check. The seven years will run from the time of the felony arrest with no conviction, the end of parole, the date of deposition, or the final day of their completed prison sentence.
However, some of these same states also provide options for these records to remain on for as long as 10 years if the potential employment salary is going to exceed $125,000 (in California, for example) or $75,000 (in Texas, for example).
You may want to know what's on your public record report, and you can find out with CheckPeople.com.
Generally Speaking, What Do Employers Look For?
Most people will immediately assume an employer is looking into a person's criminal history if there is one, when they conduct a background check. In truth, that is only a portion of what employers are searching for.
A background check from an employer encapsulates a lot more than just a person's criminal history. An employer is basically looking for the best candidate for the job, somebody who is honest has verifiable education, and they also want to see their employment history.
But isn't that information something you provide on your application or resume?
Absolutely, but in this day and age, there have been numerous reports of people who have secured employment based on falsified educational information as well as employment history.
In just the past couple of years, there have been several high-profile cases that hit the news media outlets regarding people who had been working for major corporations for a number of years but had lied about their employment history and even degrees they held.
These individuals claimed that they had certain degrees from specific universities when they never attended those colleges in the first place. In some cases, they may have started college but never finished, but reported having a bachelor's or even a master's degree in their chosen field.
Some of these employees had also falsified their work history, claiming to have gained experience with other companies in the past. This exposes a company or small business to potential liability and other risks, so that is why more businesses are running background checks, too.
They want to know every detail is accurate on your application and resume. They want to know if they're going to hire you that they're hiring somebody with integrity, honesty, and the kind of background they claim to have on their application or resume.
A General List of Information Found on a Background Check
With a general background check, an employer is most likely going to be looking for the following information:
Your full name, first and last
Any aliases or a maiden name
Current address as well as previous addresses
That your Social Security number actually belongs to you
Any information on current or outstanding warrants
Your generalized work history and educational background
Any federal or state tax liens
Any federal or state civil cases, past or pending
Criminal history
Some employers may be looking for other types of information as well, but they are limited in what they have access to thanks to the Fair Credit Reporting Act.
Are These Background Checks Always Called That?
In other words, you may wonder whether a potential employer is actually going to run a background check on you or not. You may see terms like "background screening" or "pre-employment screening."
There are different terms for them and some employers may try to disguise the true nature of a background check by calling it something else, but if they are going to run any type of investigation into your history — personal, criminal, financial — then it's all basically the same thing: a background check.
Will a Dismissed Case Show Up on a Background Check?
Depending on the case, the state in which it was filed, and some other factors, a dismissed case may show up on a candidate's background check. Even if the charges are dismissed or the case results in a not guilty verdict, that felony arrest can stay on your background record for the rest of your life.
Some states do limit how long dismissed or not guilty verdicts can show up and there are other states that don't even allow these not guilty verdicts to be listed, but the majority of states have no limitations on how long these arrests can remain on your background history.
Find out what's on yours through CheckPeople.com.
What About Expunged or Sealed Records?
You may have a case from your youth, perhaps adjudicated in the juvenile court system, that was sealed. Even as an adult, if you serve your sentence, pay restitution if directed to, you may be able to apply to have your records sealed or expunged.
If any case was sealed or expunged, it will no longer show up on any background check report. That goes for any state, including a federal background check.
Some law enforcement investigators may be able to find some information about a sealed or expunged conviction or case, but an employer will not have access to that information.
Will an Employer See Your Driving Infractions?
If you're applying for a position that requires you to drive a company vehicle, they may run a motor vehicles records check in which case they may see your history of driving infractions, which may include speeding tickets, red light infractions, and so forth, but if an employer is only running a general background check, these driving infractions will not show up on it.
However, it is important to realize that there are some driving offenses that may be considered misdemeanors or felonies. Any felony arrest — even if you were not convicted or the charges were dismissed — will remain on your background history for seven years or longer, depending on the state where the infraction occurred.
Is There Anything You Can Do to Protect Your Privacy?
General information, including your name, past aliases, maiden name, previous addresses, current address, tax liens, civil suits, felonies, arrests, and so forth are all considered "public information". As such, there is little legal recourse you have available to you to protect this type of information.
You are not completely powerless, though, even if you have a felony conviction, arrest, or other legal entanglements with local law enforcement. You can petition the courts to seal or expunge your records or seek a Governor or Presidential pardon if the conviction or arrest was egregious or other extenuating circumstances are involved.
The process to seal and expunge records can be long and frustrating, but that is far easier than seeking a pardon.
Anticipate a Background Check and Be Forthright and Honest
If you don't know anything about your background and what might show up on your record, now is the right time to find out. You can use a service like CheckPeople to research yourself and know exactly what's out there on your public record background before applying or interviewing for a specific job.
If there is anything untoward or nefarious about your past, no matter whether it happened 30 years ago or three, be upfront and honest with any potential and prospective employer. Explain how you're different, show them in your demeanor, your attitude, and your speech.
Get ahead of any felony arrest that might show up on your record, even if their application says you do not need to disclose felony convictions or arrests.
Just because an employer may not be permitted to ask that question on the application in certain states doesn't mean it won't show up on a background check. As long as you are upfront and honest, you will show integrity to your prospective employer.
It may seem unfair and can certainly be frustrating for people who have negative information in their past, especially if it prevents them from getting a certain type of job, but the more you protect yourself and the more you know about what's on that background report, the more prepared you will be when it comes time to apply for the job of your dreams.
Related Posts