Hiring a Contractor: How to Know If You've Found the Right One
Linda Collins - October 21, 2019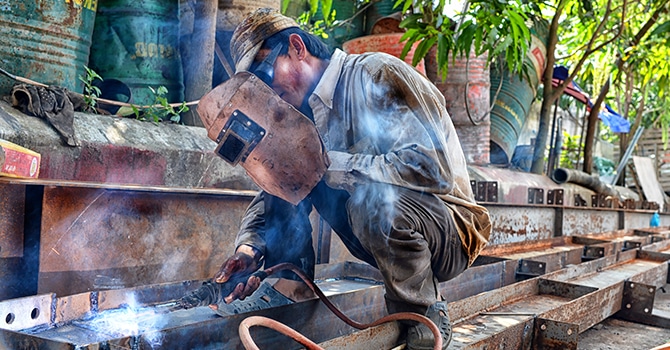 You're either planning or find yourself right in the middle of a large home improvement project, and you realize that you just don't have the necessary tools or expertise to finish the job. Maybe you need to find outside marketing assistance for your new digital media startup because you don't have the time to promote all of the great content you've been creating.
Among the many reasons you may need to hire a contractor for professional assistance, having a background check on your contractors is just one of many ways to ensure that you've found the right ones or one for the job you need to be done.
So, where do you begin? Are you going to let just anyone into your home, or handle the promotion of your very own company? Let's continue forward and take a look at how to know if you've found the right contractor to complete your personal, or professional needs.
Always Have a Plan in Place
It's your project, or it's your company, and it's you that knows where help is needed most. Don't hire a contractor under strained circumstances unless it's a real emergency, and always ask friends and family members who they've hired in the past if this is the case.
A plan can involve a detailed blueprint or schematic that was professionally drawn to scale by an architect or designer, that will be presented to the contractor you are looking to hire. If it's business help you need, you more than likely have already created a job title, the job requirements, and the general persona of the ideal contractor you are looking to hire. If you haven't, now might be a good time to do so.
Not only should you have a good idea of the project at hand or the experience and knowledge required by the contractor you need to hire, but having a list of general specifications or guidelines, along with a general price of the project can be helpful when negotiating or reviewing the quote for a project. You shouldn't have to worry about being swindled by a good contractor, but it can be helpful to have this information ready to make sure you are staying within your budget.
With a detailed plan in place, you can be sure that the rest of the hiring process will be much smoother, ensuring that all specifications of the work that needs to be done, can be handled safely within the time frame your contractor needs to complete the work required.
Set Up An Interview
You've started your search and you think that you may have found the perfect contractor for the job at hand. Don't let your emotions take you away without some extra due diligence, though. At this point you have probably taken a look at the previous work the contractor has completed for other individuals. A critical vital step in choosing who to hire.
So, the work of the contractor speaks for itself, you just want to hire them and get started. However, there is a part of your project that needs special attention or hasn't been showcased within the contractor's work portfolio.
Reach out and set up a personal interview. With a personal interview, you can go over the specifics related to your project and get a better understanding if it is something the contractor will be able to, or willing to handle.
When you have the direct attention of the contractor, you can ask for other vital information about whether or not they are insured, and if they are willing to negotiate a timeline to complete the work. Ask about their the schedule and whether or not they may be accommodating to additional work that may be needed as the project continues.
Check the Facts Directly
Since a contractor has more than likely worked on multiple projects, for at least a few different people, it should be easy to start checking on basic facts and information right away. With just a simple internet search through Google, for example, you should be able to find helpful facts and information on the contractor that you are looking to hire. Just make sure that you are narrowing your search, and outlining the specifics of what you are looking for.
Beyond the internet search engine, you could try more direct attempts at finding contractor information through LinkedIn and other Social Media business profiles such as Facebook, or Instagram. These sites usually provide basic contact information, links to professional portfolios and resumes, photographs, and previous reviews from other individuals who have hired the contractor. Don't forget to ask around your community, or reach out to your friends and family for contractor information if you are hiring more locally.
Let CheckPeople Gather Additional Background Information
CheckPeople.com is a people search service that will do the heavy lifting of finding the background information you need before making a sound hiring decision for your next contractor. Whether you've done some groundwork yourself, or need a place to start, CheckPeople.com will gather and analyze all available public records for the individual you are seeking to hire. This includes everything from basic contact information, to social media data, criminal records, financial assets, and more.
With the information you receive from CheckPeople.com, you can then start your investigation and communication with the contractor of your choice. With the helpful information provided above, and a detailed background report from CheckPeople.com, you can rest assured that your next contractor will be the right one to complete the job you need to be done.
For a little extra peace of mind along with your CheckPeople.com background report, you can try hiring contractors that have been pre-screened through specialized contractor-matching websites. This may include website locations such as everycontractor.com, or homeadvisor.com to name a couple. These pre-screened contractor sites will help you locate trustworthy and capable contractors in your area. Many similar sites exist, and most of them are free to use as another helping hand along with your search for the right contractor.
Related Posts
Recent Posts
Popular Posts
Tags